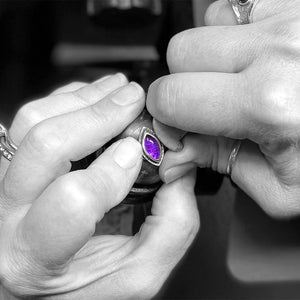 Vermont Jewelry Artist Christy Stocker
from etsy
over 11K happy customers!
I started selling my handmade jewelry on Etsy in 2013. I still offer a selection of repeatable designs there, but you'll find all those, plus my one-of-a-kind, made in Vermont jewelry right here!
the difference
craftsmanship
Craftsmanship (noun): the quality of design and work shown in something made by hand; artistry.
Each piece begins its life as sheet metal and wire. I use traditional hand tools and techniques, together with thoughtfully crafted design, to transform these raw materials into treasures that will last a lifetime, and beyond. Attention to detail is paramount, in every step of the process.
meet the artist
christy stocker
Hi! I'm Christy, the hands behind all the handmade jewelry here, and I'd love to make a piece just for you! My normal turnaround time is about two weeks, except for items in my Ready to Ship section, which ship in 1-2 business days. For more about me, take a peek at my About page.